School house spirit drives container collection for Vinnies Return & Earn Scheme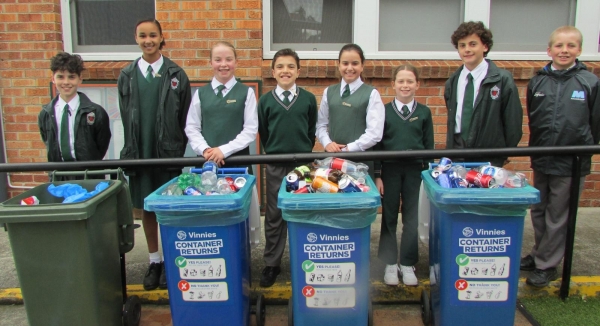 Congratulations to our St Brigid's students, families and staff – our two Vinnies Return and Earn container collection drives this term have seen us together collect more than 5,700 recyclable drink containers and deposit them to the Vinnies Return and Earn depot in Unanderra!
As a result, St Brigid's has saved over 15 cubic metres of waste from ending up in landfill!
"The Student Representative Council thought it would be a great idea to have two special drives in Term Three held between our three sporting houses," said principal, Kathy Uroda.
"We have 185 students from Kinder to Year Six, so it was awesome to see students and their families get behind the drive and collect 2,234 containers in the first drive alone" — Principal Kathy Uroda
Our school then organised a second drive in the term and collected another 3,521 containers. The total collection was 5,755 containers, which raised $575.50 for Vinnies.
Container drives are one of the many ways St Brigid's support Vinnies – along with volunteering at Vinnies Vans, contributing to Winter and Christmas Appeals, and donating food and toiletries to people in need.
A wonderful response to the challenge from Pope Francis in Laudato Si' of responding to both the cries of the earth and the cries of the poor.