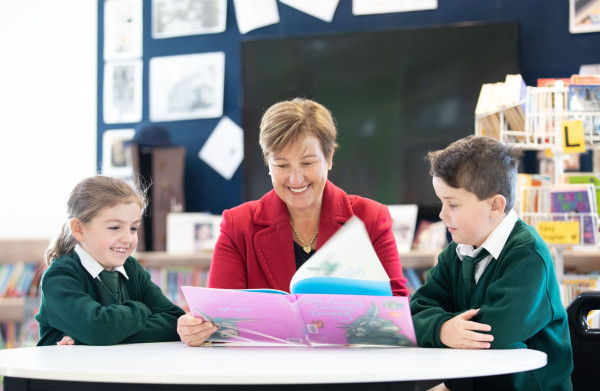 St Brigid's Catholic Parish Primary School is a one-stream school founded in 1951 by the Sisters of the Good Samaritan of the Order of St Benedict. Nestled in the foothills of Mt Keira, we are approximately five kilometres from the large urban centre of Wollongong. Our students are generally drawn from our local village community and represent a variety of socio-economic and cultural backgrounds, which contributes to a good synergy and a strong sense of welcome and community.
Our school mission, 'To Develop Leaders of Faith, Justice and Learning', along with our Catholic faith, underpins our school culture and values.
The main role of the school is to support parents as the prime educators of their children, academically as well as spiritually, emotionally, socially and physically. We therefore aim to provide quality learning and teaching within a Catholic culture and environment where the individuality and uniqueness of all its members are recognised and valued.
At St Brigid's we have a strong focus on leadership and bringing out the best in each and every child. For us leadership means being the best person we can be in everything, every time, everywhere, and being a positive influence for ourselves, others and the world around us particularly in faith, justice and learning.
Our school actively promotes our 'Positive Behaviours for Learning' (PB4L) program and we set clear expectations for students with an aim to educate them in making positive life choices and accepting responsibility for them. Our school rules reflect this: 'With a faithful heart I can be the best person I can be when I am respectful, responsible and safe.'
Our school, parents, parish and the wider community work together in partnership for the common good and education of our students. St Brigid's values and invites involvement in the wider community through its strong and extremely successful involvement in sports and the creative arts and an annual focus on social justice issues.

Read more about What We Offer at St Brigid's and Take a Virtual Tour of our school

OUR FOUNDATIONS
The St Brigid's Gwynneville Parish was founded in 1948, with Fr James M. Evans as its first parish priest.
Our school was founded in 1951 by the Sisters of the Good Samaritan of the Order of St Benedict. The founding principal was Sr M. Joan Healy.


OUR PATRON SAINT
St Brigid of Kildare was an Irish nun known for her faithfulness and generous heart. We celebrate her feast day on February 1.


OUR CREST
'Cor Fidum' (Our motto, meaning 'Faithful Heart') & 'I.O.G.D' which represents a motto in Latin from the rule of St Benedict:
In Omnibus Glorificetur Deus ~ That in all things God may be glorified.


OUR CHARISM
Our school has the charism of 'Welcome & Hospitality' from our founders, The Sisters of the Good Samaritan of the Order of St Benedict, and from our patron saint, St Brigid.
We also have the charism of 'Leadership in Faith, Justice and Learning' from our mission statement.


OUR SCHOOL HOUSES
Red House ~ MacKillop (In honour of Australia's first saint)

Gold House ~ Samaritan (In honour of our founders)

Blue House ~ Evans (In honour of St Brigid's first parish priest)